Die US-amerikanische Künstlerin Patty Carroll ist vor allem für ihre bunten, kontrastreichen Fotoserien bekannt, in denen sie Modelle mit Stoffen umhüllt.  Eine Technik die sich wie ein roter Faden durch ihre Arbeiten zieht.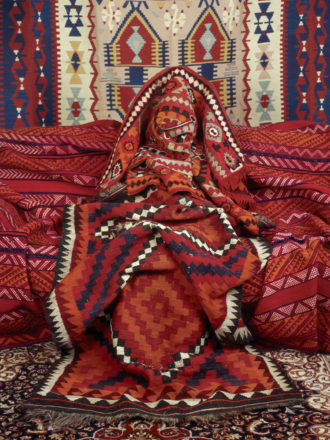 Auch in ihrer jüngsten Serie "Anonymous Woman" verschwindet die Hauptdarstellerin wieder hinter einer Maskerade aus Vorhängen, Gardinen und Teppichen. Dadurch entsteht ein Camouflage-Effekt, bei dem der Betrachter nie ganz sicher sein kann, ob sich wirklich jemand hinter Verkleidung verbirgt.
Ihre Arbeiten werfen Fragen auf zu Identität, Körperlichkeit und Frauenbildern, besonders heute, in einer Zeit, in der wir uns schon lange an ein neues klischeehafte mediale Frauenbild gewöhnt haben. Denn durch die Verhüllung wirken ihre Portraits irritierend und unzufriedenstellend. Ich habe mit Carroll über ihre Arbeit gesprochen.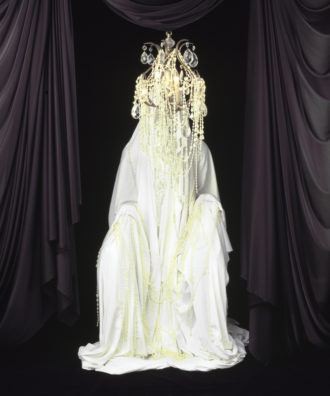 In the pictures of your series "Anonymous Woman", the peoples' faces are never shown. What is the reason behind this or can you reveal something about the woman behind the curtain?
I do not show the faces because then it is too specific and becomes a portrait. My intention is that the viewer can identify with the narrative and the figure in the photograph. I have had women say to me about various pictures, "That one is me!" 
Also, I want to represent types of people, not specific ones. For instance, reponses have included, this looks just like my aunt/grandmother/mom!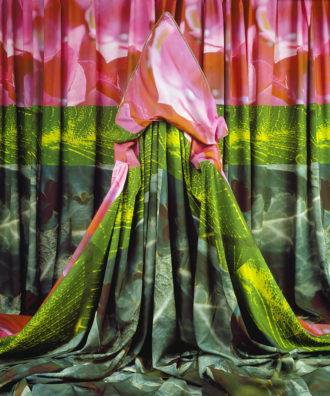 Women play a significant role in your work. Would you consider yourself a feminist artist?
Yes, my work is about entangling the identity of women and home, leading to the phrase "housewife." All of the photographs are reimagined interior spaces of rooms filled with décor and objects, engulfing a lone figure of a woman, who is camouflaged in her interior, with perhaps only bits of her visible. She is both a victim of her obsessions, activities and circumstances as well as the creator of such. She is merged with the house, and it provides her an identity which is both satisfying and problematic.
I fully acknowledge the celebration of overlooked women and my place in that category, inspite of the fact that I have a career as artist and educator. Many women have the unpaid career of creating homes for partners and children. It is less so now, as most families need two incomes to stay afloat, but when I grew up, it was expected that I might have a career, but definitely I would be a mother and run a household.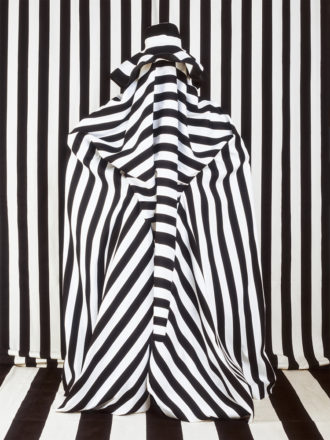 Your works seem to be thought through to the last detail. Are they?
I would not consider myself a perfectionist. I am very interested in making the best picture I can in terms of composition, color, design and of course, content. However, I always see the flaws and in the end, go with them. To be a perfectionist is to kill creativity. But, I really work hard on each piece.
You work a lot with textiles. What is the root of this affinity?
When I grew up, all I wanted to do was sew or paint. Sewing gave me the satisfaction of piecing various visual effects as well as symbolically being a way of controlling something, especially when my life seemed fragmented and in pieces. Sewing was a way of making things whole.
I went to Catholic school for 12 years and the nuns wore habits. Their identity was formed by their large amounts of black and white cloth. Unlike priests who only put on the robes for mass or other rites, the nuns lived in their habits, and we never knew them outside of that context. I am sure that had a huge influence.
This series, however, began when we bought a mid-century ranch house and it had the original drapes in it.  I immediately responded to them and put them in my photographs. Drapery in a domestic interior is the way to keep the out the cold, the outside world, and provide a softening appearance in a room. I was very influenced also by the traditional interiors we experienced when living in London, where drapery is de rigueur.
Now it has gotten out of hand and I have too many drapes and bins of fabric that get recycled into photographs and installations.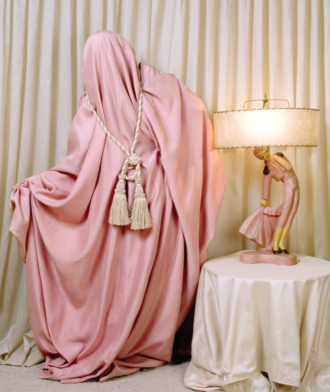 The viewer of your works might be overcome by feelings of isolation, loneliness and anonymity. At the same time, the motifs are colorful and humorous. An exciting contrast with a big effect. This isn't a coincidence, is it?
No, I believe that an image must have some sense of beauty to allow the viewer enjoy it while contemplating the meaning. Also, my life has always been a combination of simultaneous laughing and crying. My mother had a great sense of humor, which she imparted to the family, and this series is dedicated to her memory.
All Images © by Patty Carroll