THE AMERICAN DREAM
When you decide to move to Europe, you're not only making a commitment to support the world's longest-standing peace project, you're also making a commitment to eat bread, wine and cheese like a greedy medieval peasant. As an American traveling around Europe, crossing cities off my bucket list like nobody's business, I take the commandment to eateth with abandon very seriously, so when I heard South Tyrol resolved their decades-long violent conflict by essentially agreeing to become an independent state of Austrian/Italian cheesy goodness, I knew I had to get down there immediately. But what I found was so much more than the best cheese wine and bread of my life – I experienced one of the most beautiful places on earth, populated by humble caring people, and reconnected with the joy of life's simple pleasures. Here are my recommendations for a magical week in Eisacktal Valley, South Tyrol: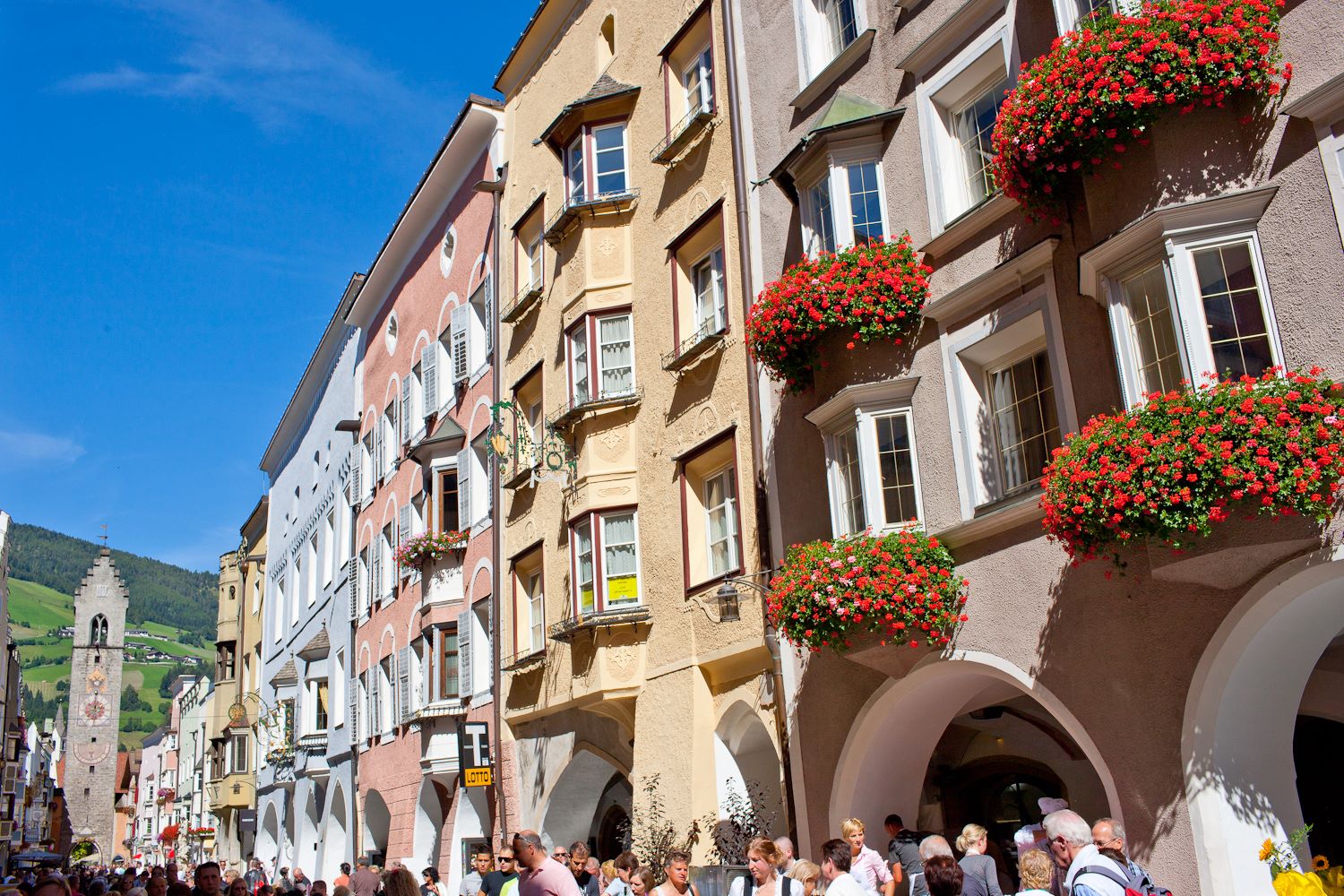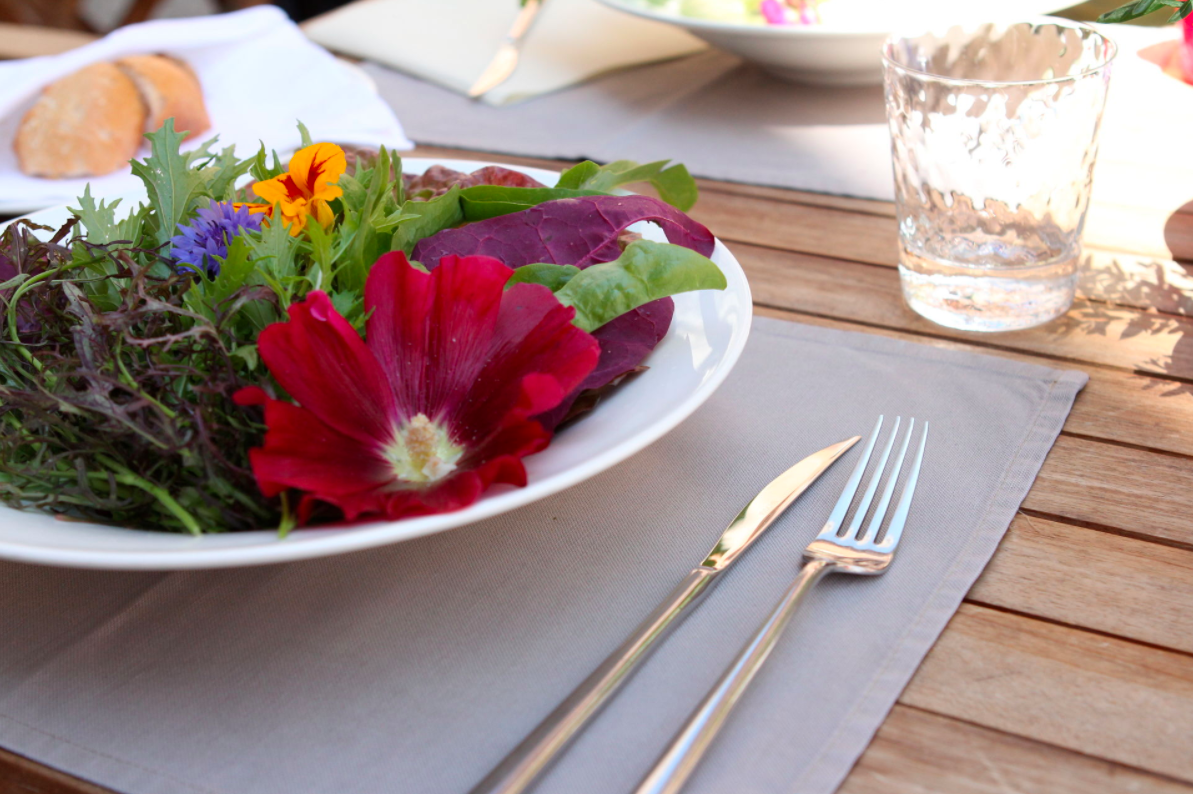 STERZING-VIPITENO
This northernmost Italian city and the southernmost point where people still wear socks and sandals is a great place to witness the magic of blending dolce vita with Deutsche vita. Trains from Munich go directly to Sterzing-Vipiteno, but for this trip, it's best to rent a car. Upon arrival, stroll beneath Zwölferturm (a beautiful belltower in the city center that is older than America), wander the picturesque streets, show off your German and Italian accent simultaneously by reading any of the bilingual street signs, before settling in for some incredible wine and food at Vinzenz-zum Feinen Wein. Try their Knödel-Soufflé for a delicious and original interpretation of the German/Austrian classic, the lamb chops for a taste of local…animals…and the zuchinni blossoms because guess what…you're in Italy now!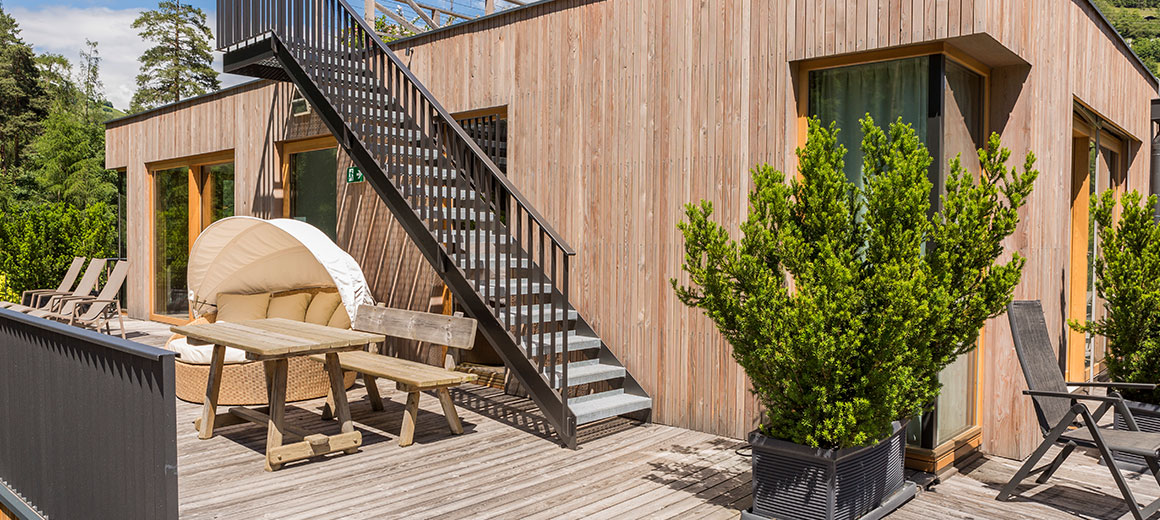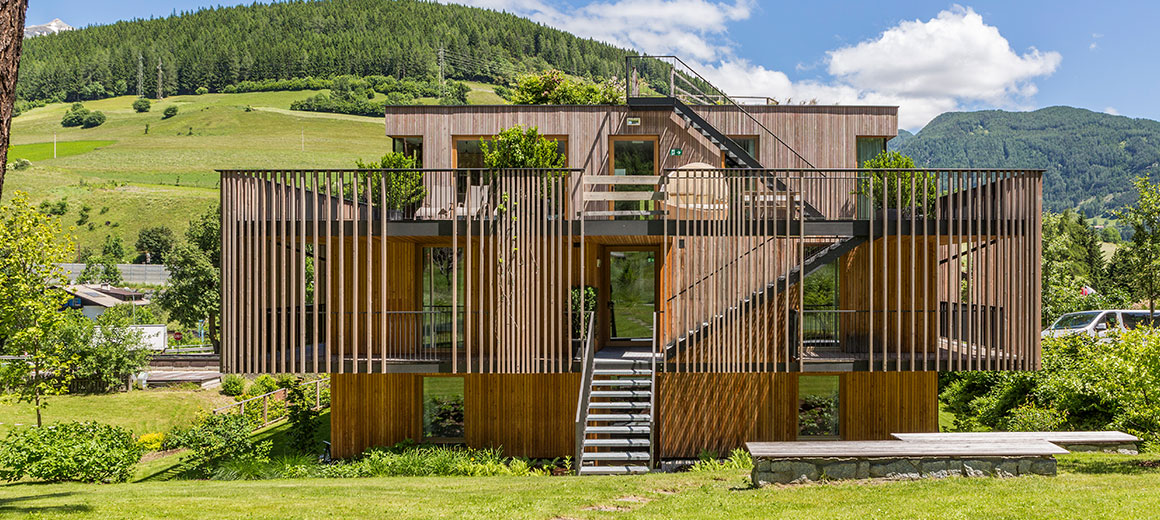 BOUTIQUE HOTEL STEINDL
Within a 15 minute walk of the train station is the Boutique Hotel Steindl. Hidden behind the façade of an unassuming café, Hotel Steindl is the archetype of how South Tyrol brilliantly combines the regional and the contemporary. The hotel's modern minimal design is all eco-friendly and utilizes fragrant local wood, giving the place a kind of Scandinavian spaceship vibe.
Breakfast at Hotel Steindl is a veritable smorgasbord of local products —honeycombs dripping fresh honey, incredible bread, every flavor of local jam and butter and decadent cheeses, infinite tiny bowls of superfruits and nuts and seeds, passionfruit, berries, fluffy eggs and much more.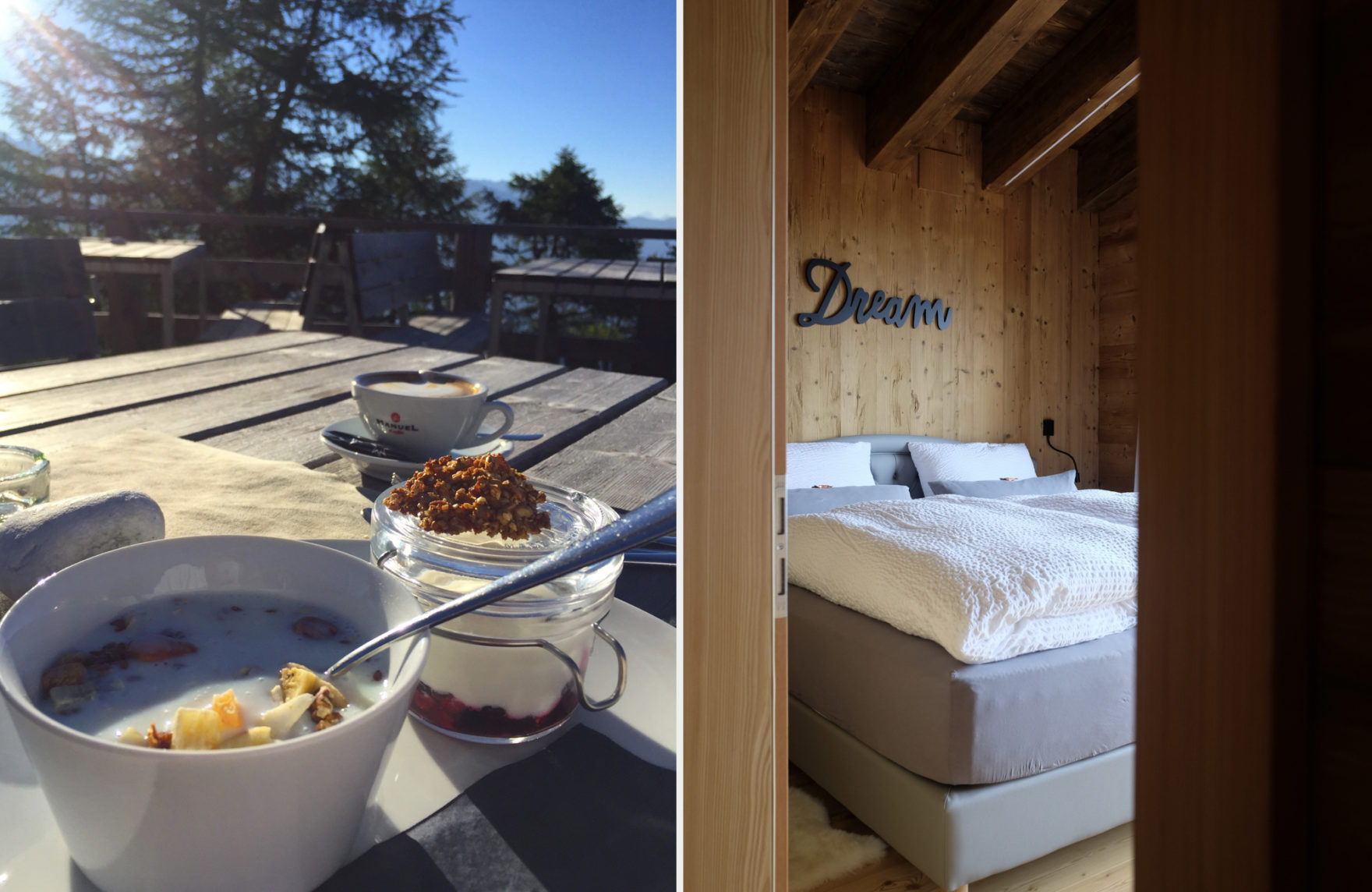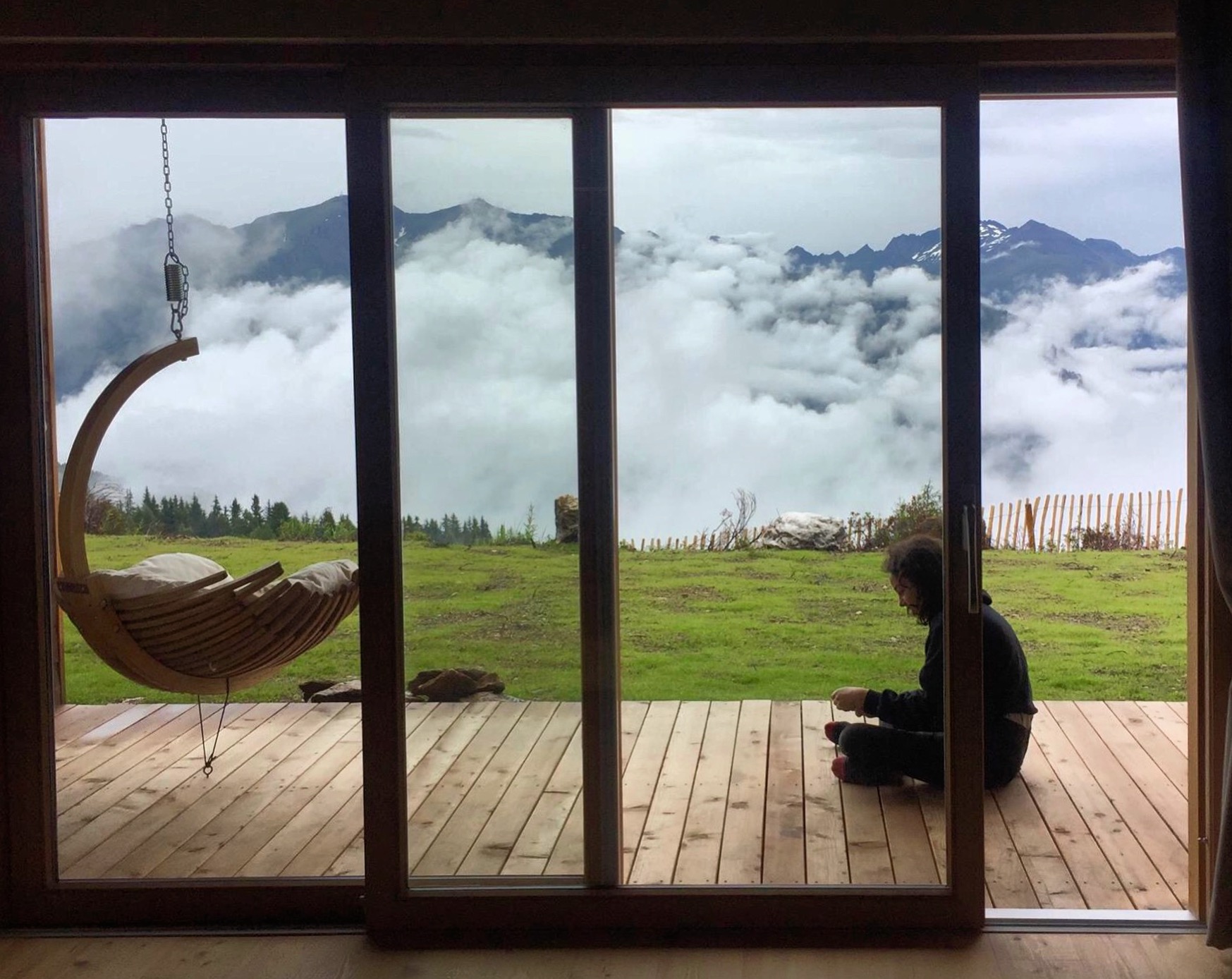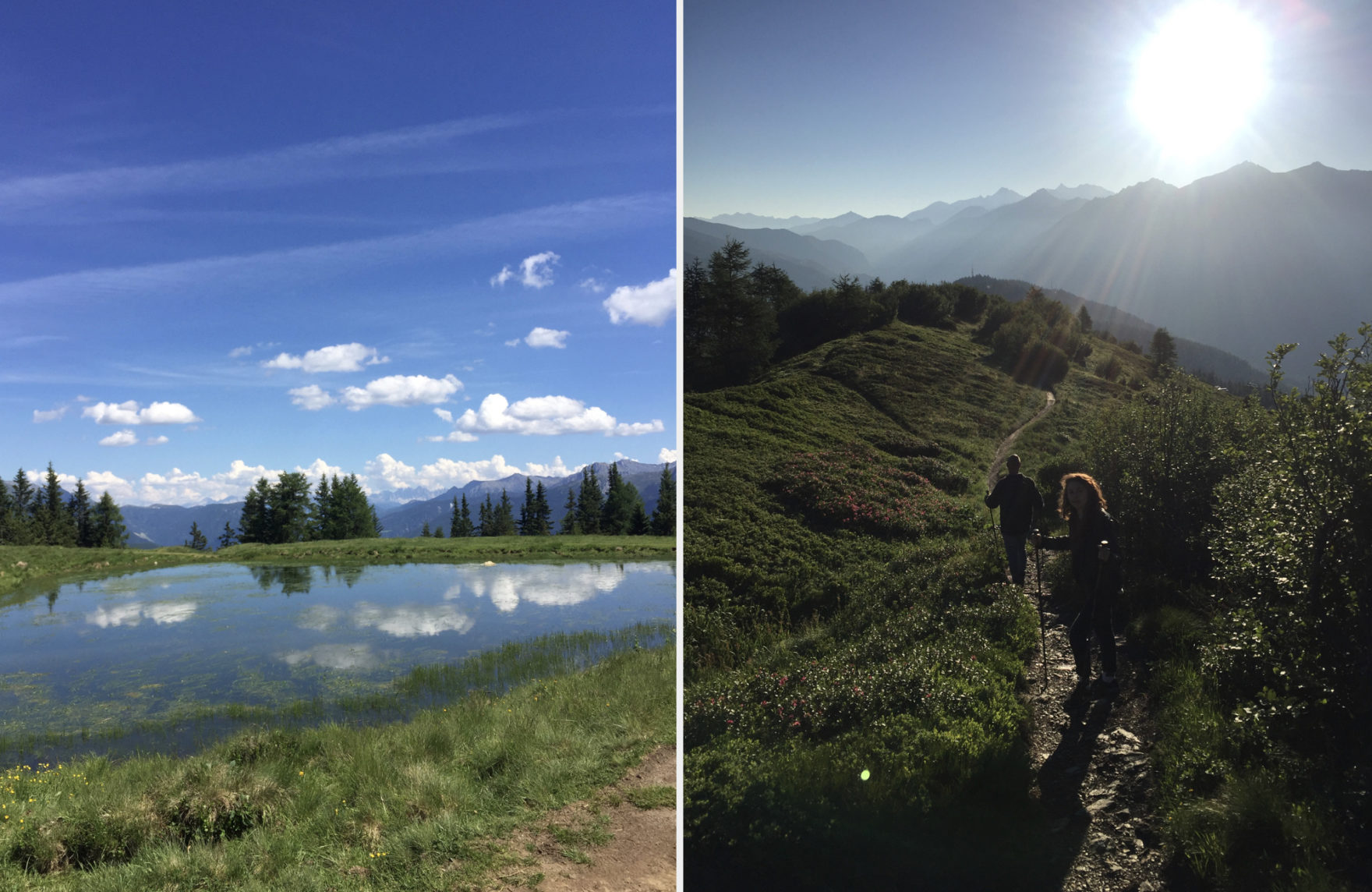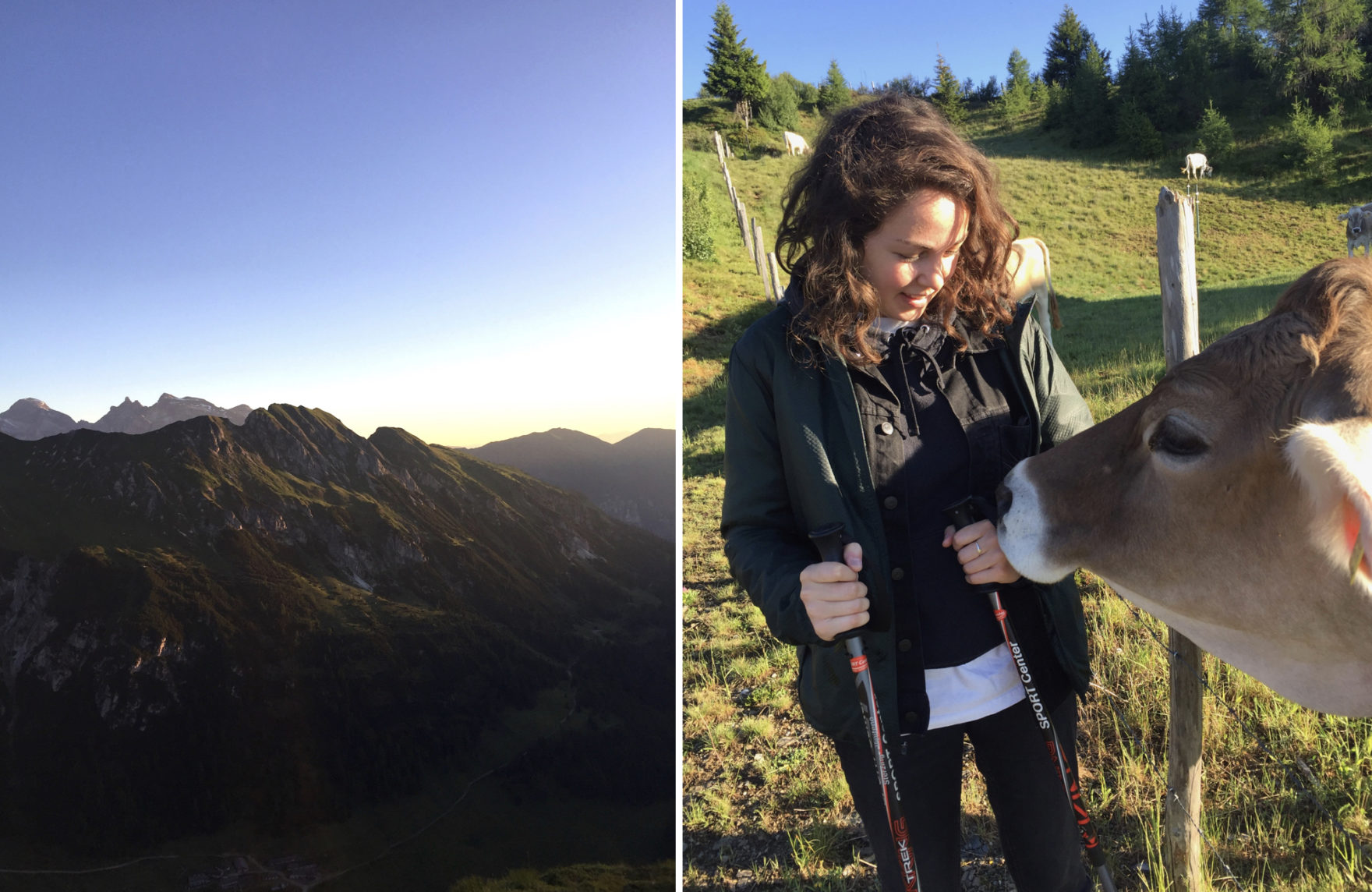 STERN CHALET
From Vipiteno, head to the Rosskopf ski lift. Fear for your life as a metal bubble hanging on a piece of floss carries you and your loved one to the top of the mountain. Arrive safe and sound at Stern Chalet – a slice of heaven perched in the clouds, a certified TOP mountain hut. There are 56 TOP mountain huts, mountain inns and refuges in the Valle Isarco/Eisacktal, the valley of trails. TOP stands for Tested – Outstanding – Place, designating an extraordinary place whose quality has been verified, as objectively based on 62 defined criteria . These include sustainable construction, the utilization of local products, friendly service and respectful treatment of the surrounding environment.
Originally a private family cabin, the owner Tom (an incredible host with a flair for culinary innovation and a certified herb master) turned the Tyrolian "Hütte" into a kitchen and dining area, and built a state-of-the-art ecological boutique hotel on the rest of the property along with a sauna, natural pool and hot tub. The view from the duplex deck will make you cry: a crystal blue view of the sloping mountains peppered with tiny distant cabins, fog woven through dark green pines, and in the distance, the formidable Dolomites.
Wake up at 4 AM for a guided sun-rise hike through vertical fields of alpine roses to watch the sunrise on the mountain summit. Simmer in the bone-dry heat of a Finnish sauna before cooling off with cucumber water and a nap on the different "herb beds" (one of Tom's many brilliant uses for the local lavender and pine). Go "wandern" through almost comically pastoral valleys filled with cows. Taste how sweet a clash of cultures can be with meals that blur the line between Italian and Austrian: local spinach ravioli sprinkled with mountain flowers. A tower of baked apple filled with liquor creme and walnuts. Fried nettles and olive oil-soaked sun-dried tomatoes – all made with love.
If you're not too tired from hiking, swimming, eating, running from cows, and popping back a few of Tom's signature beer schnapps', step out at night to watch shooting stars. If you happen to be there for the summer solstice, watch for tiny fires dotting the mountains all around you for the local celebration of Herz-Jesu. It's literally lit.
PRO TIP: Cows don't attack people. They're chasing you because they want to be your friend.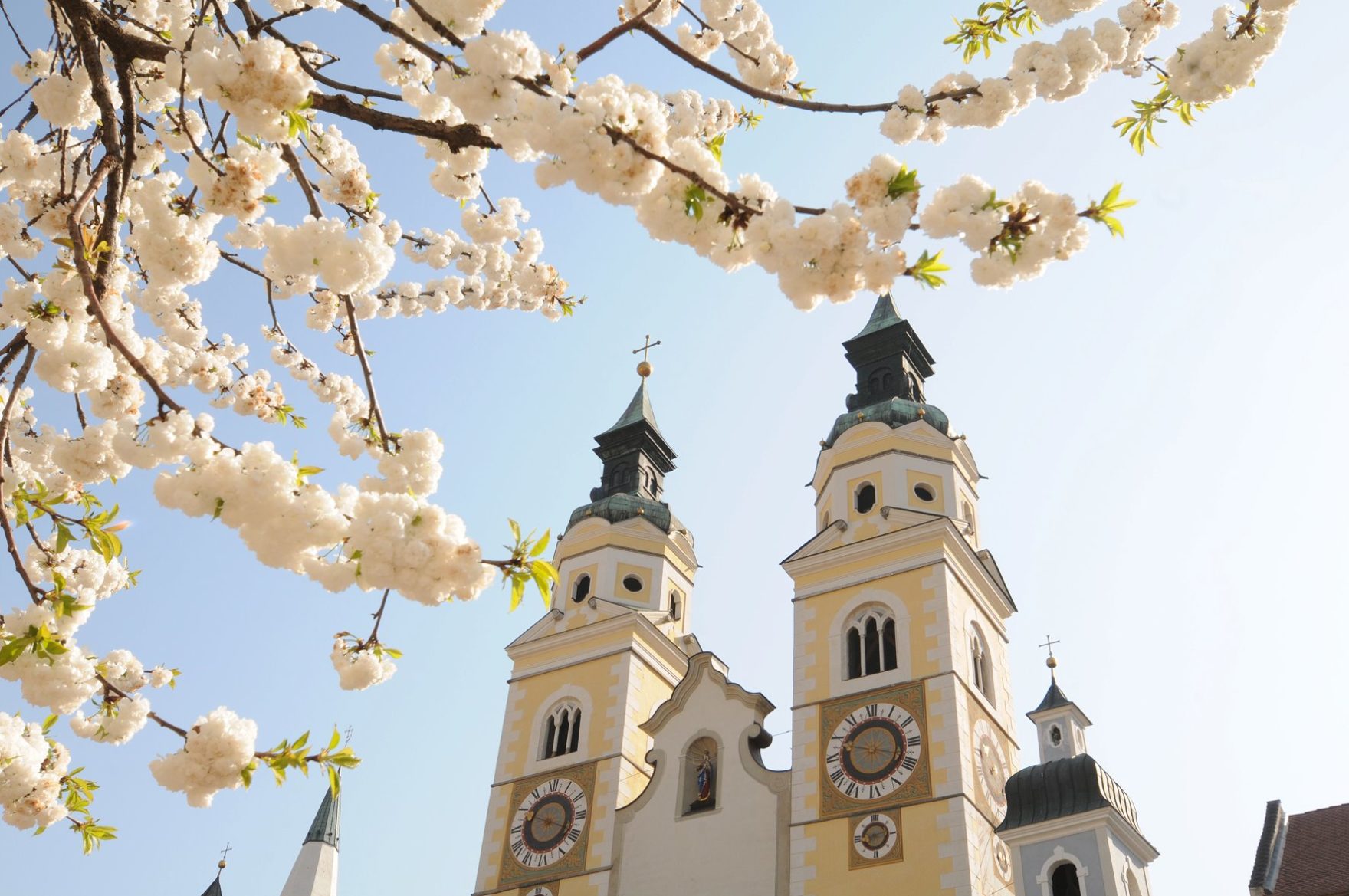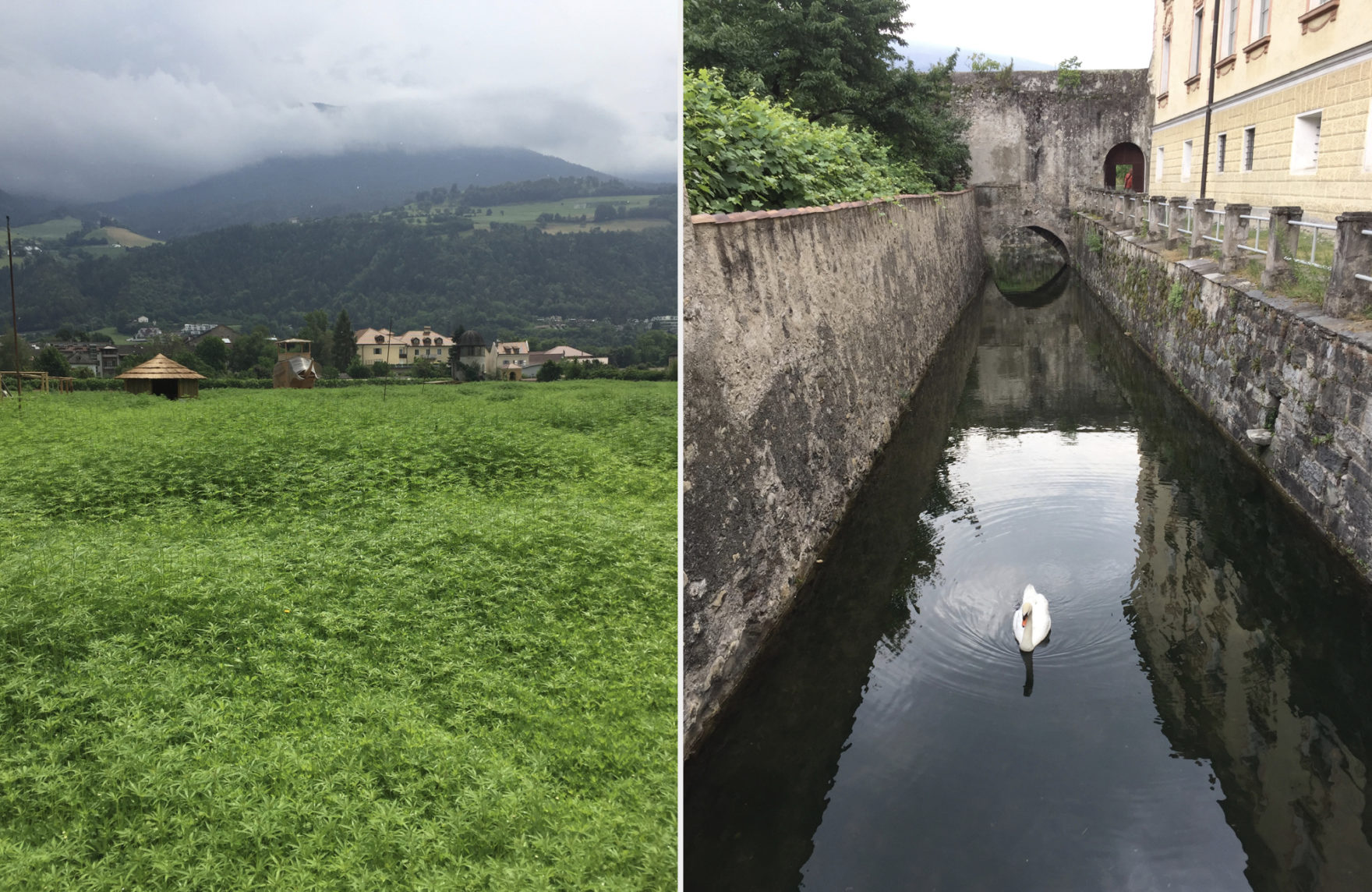 BRIXEN
On the way from Stern Chalet to your next destination, make a pit stop in Brixen—a mid-sized town with a nice variety of shops and restaurants which also happens to be the oldest known city in the region. After wandering through churches filled with medieval frescoes get yourself some dank mozzarella at Vitis. The restaurant's tranquil patio covered with grapevines makes it the perfect spot to grab your 11 AM its-vacation-leave-me-alone glass of white wine.
Afterwards, get the best view of the city from the back of a giant wooden elephant in the middle of a hemp field near the church, and during the summer months, catch the annual 50x50x50 exhibition—the largest exhibition of contemporary art from South Tyrolian artists.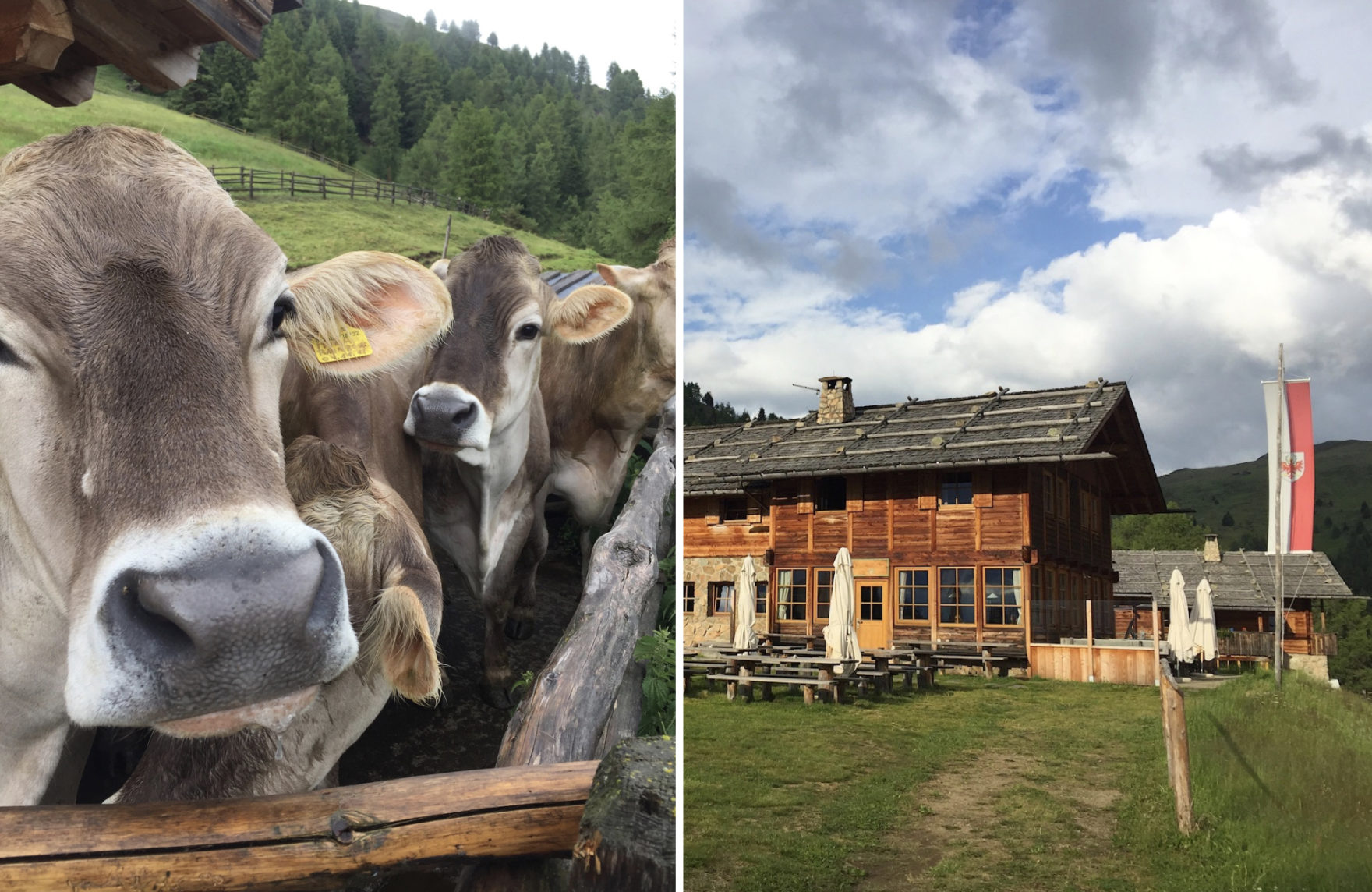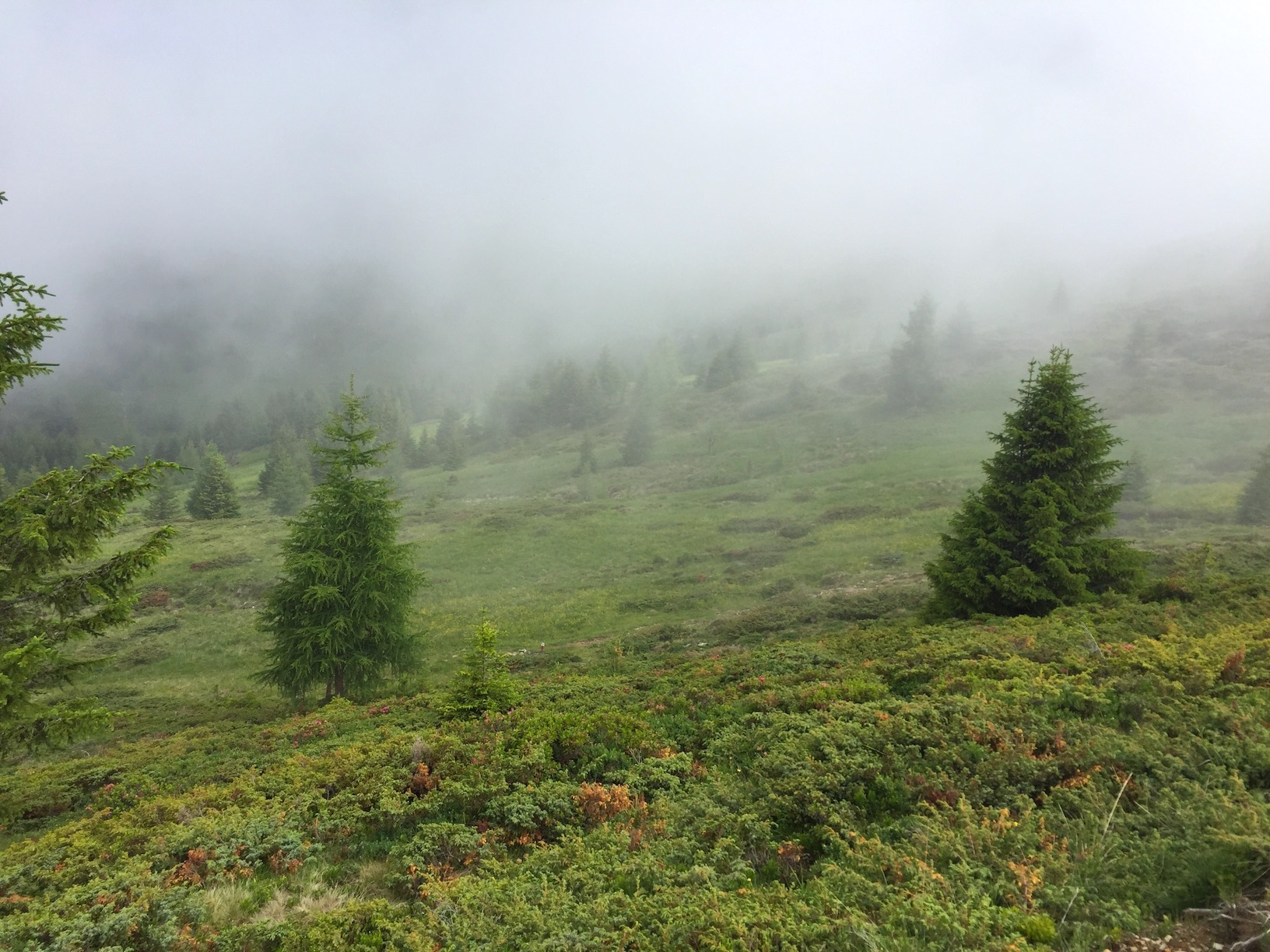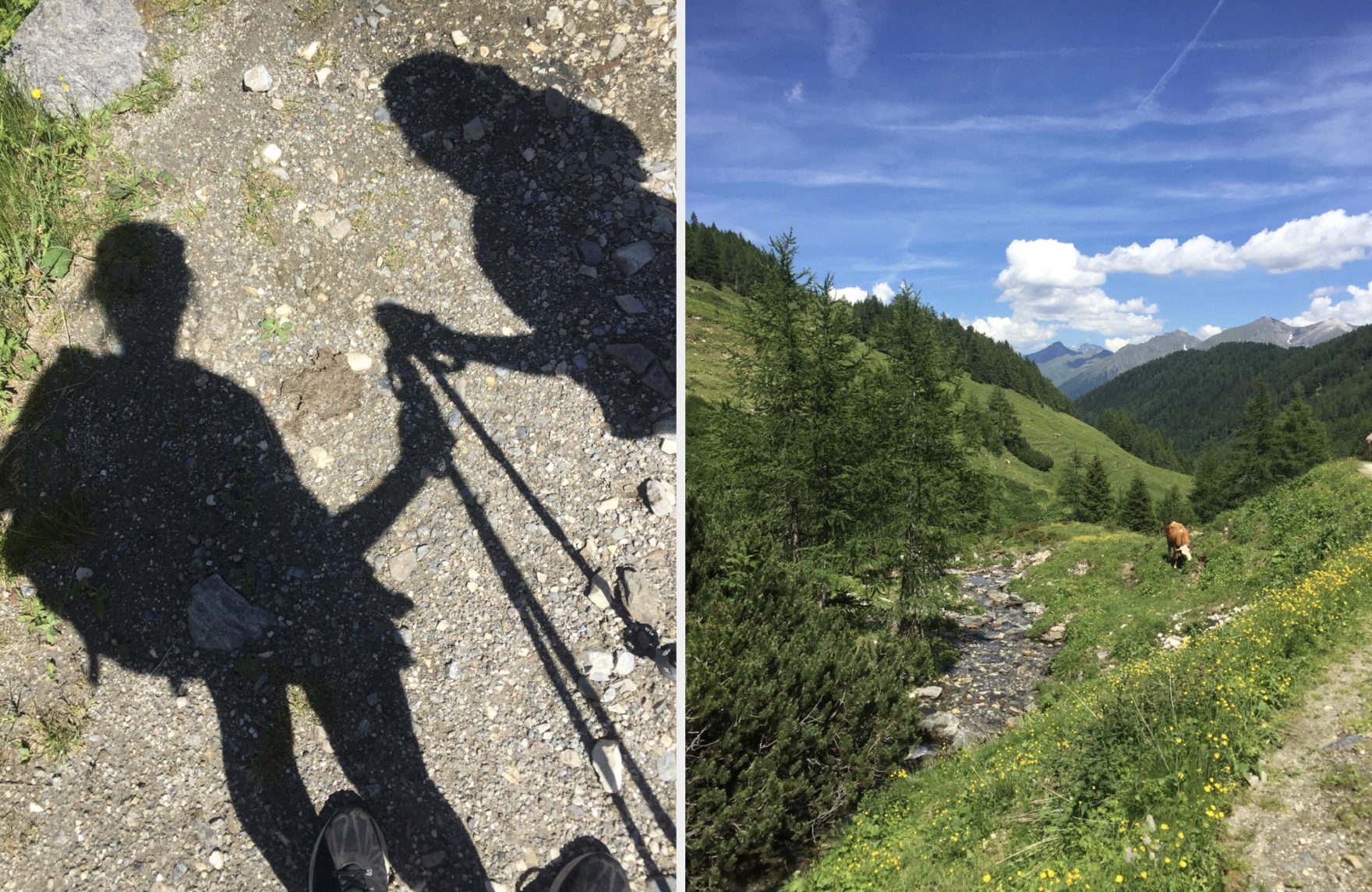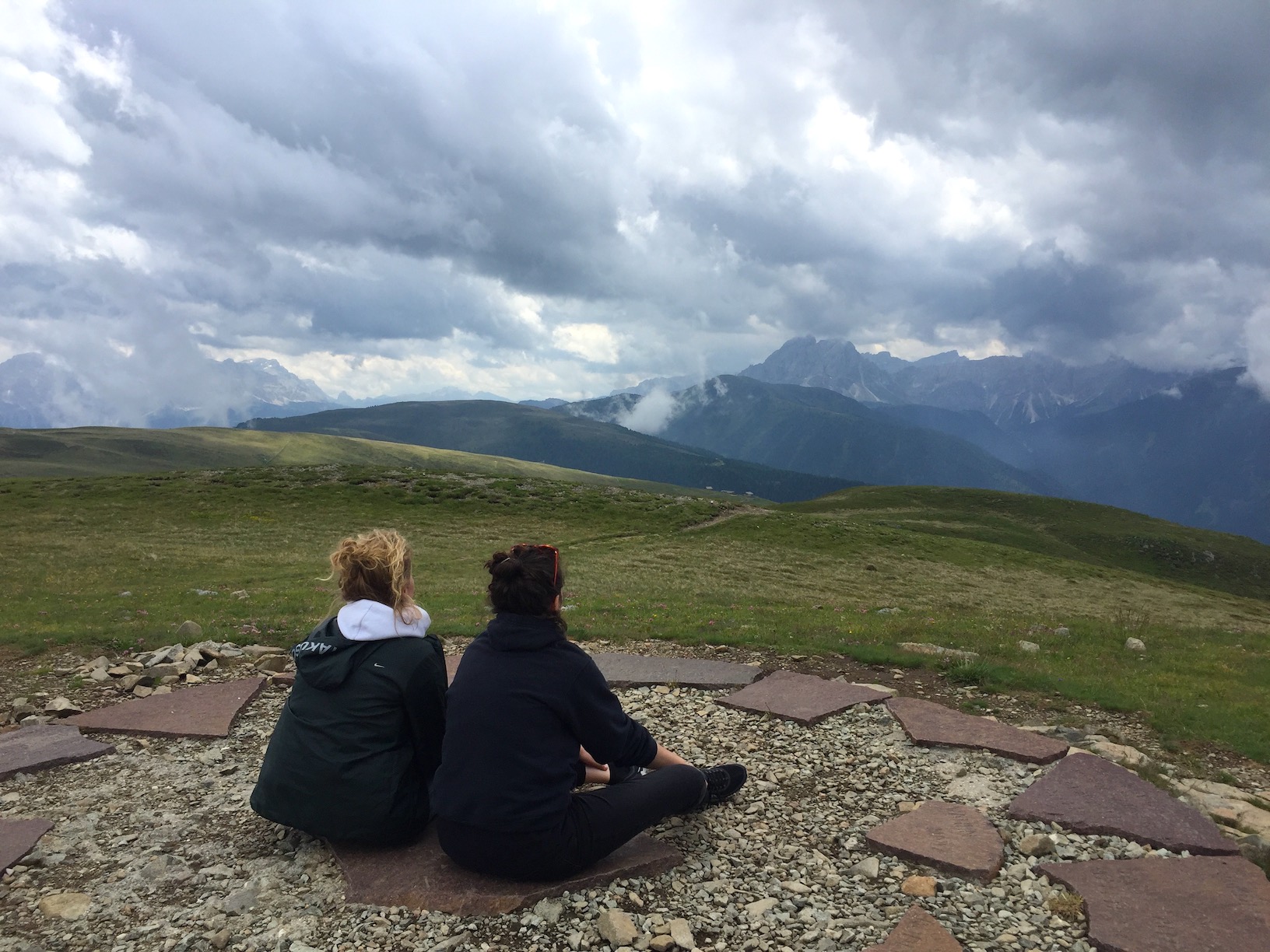 If you're tired of feeling like a woodsy Kardashian and want to literally get your feet in the mud, head to the family-friendly Kreuzwiesenalm – another TOP Mountain Hut. Though the unadorned cabin is mostly only reachable by hiking (or by car if you're planning a longer stay), what Kreuzwiesenalm lacks in luxury, it makes up for tenfold in charm. The family running the property are award-winning cheese makers, and not only does the fantastic butter and cheese feature prominently in their delicious in-house restaurant (vegetarians/vegans don't even bother), but you can also visit their cheese-maker to watch curds gettin' stirred, butter gettin' churned and cows gettin' milked.
For a more spiritual and less milky connection with nature, a guided hike with herb expert and natural healer Herta Grünfelder is an absolute must. Wander with Herta for hours through the hills around Kreuzwiesenalm—past old farmers, abandoned cabins, and herds of cows shrouded in mist. Along the way, she points out rare mountain flowers, picks wild strawberries, edible pine and juniper and teaches about regional mysticism. If you're lucky, you might even experience her beautiful guided meditation at the mountain's peak while basking in the powerful energy of the Dolomites.