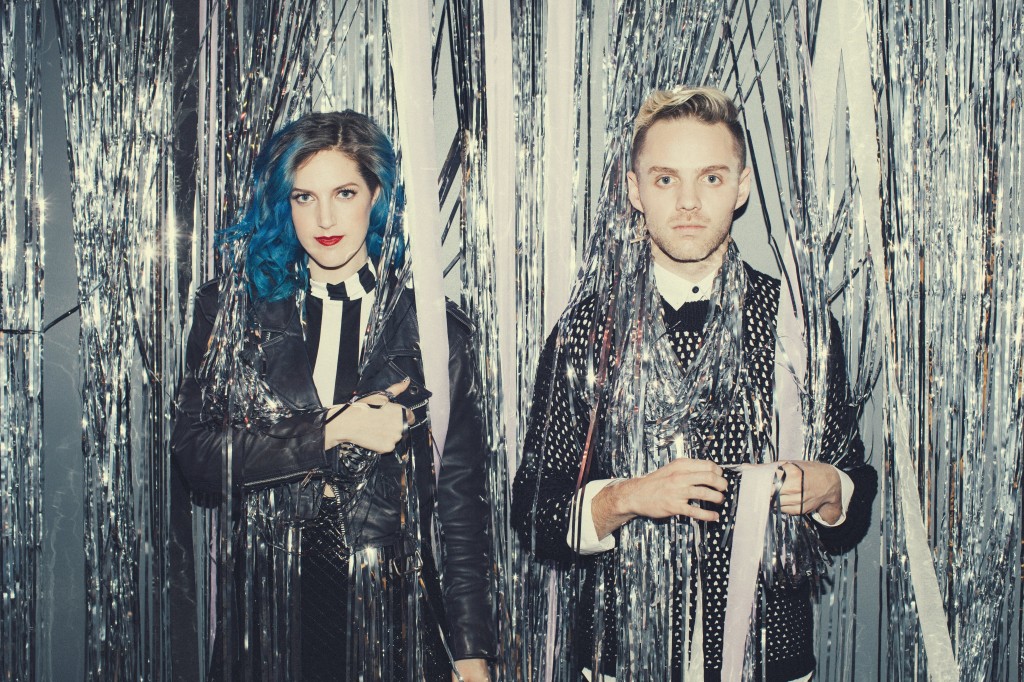 Vor einigen Tagen berichteten wir bereits über das neue Musikvideo "Think of you" des New Yorker Pop-Duos MS MR. Auf ihrer Tournee durch Europa machten Lizzy Palpinger und Max Hershenow auch in Berlin halt und gaben ihr Debütalbum "Secondhand Rapture" sowie Stücke aus ihrer ersten EP "Candy Bar Creep Show" zum Besten. Nach ihrem Konzert im Berliner Szene-Club Berghain ergriffen wir die Chance die beiden Ausnahmemusiker persönlich zu treffen und sprachen mit ihnen über die Leidenschaft zu ihrer Heimatstadt New York, über Hurricane Irene sowie über ihre Liebe für Vielfalt und Farben. Elemente die sich im abwechslungsreichen Sound ihrer Musik und der Ästhetik der Bilderwelt ihrer Videoclips widerspiegeln.
Die gleiche euphorisierende Energie, Lebenslust und emotionale Tiefgründigkeit, mit denen die beiden Wahl-New Yorker ihr Publikum in Berlin von der Bühne aus verzauberten, steckte auch uns während des Interviews an. Hier das Resultat …



TO START WITH …
Berlin?
Max: Oh we love Berlin…. Actually you can't see much of the cities you're visiting during a tour, when you are on the road. But Berlin is the place we can imagine to come back. And it's definitely the one I could imagine to live in. Berlin gives you a lot.
New York?
Both: Home.
Max: New York is an important place for our creativity. If there is a third person in our writing process …
Lizzy: … it would be New York.

SOMETHING ABOUT YOU …
Who is Mister and who is Miss?
Lizzy: Who is Mister? (laughs) … We like to think that Mister and Miss changes. You know, for us the titles are interchangeable and it's funny that the most of the people are seeing that I'm the Mister and that Max is the Miss. (laughs again). It doesn't really matter who is who, or what is what. We like the idea that it can be both and that you can confuse gender. People can be what they want to be.
And the difference between the Miss and the Mister?
Lizzy: In life? … Oh it's so silly, but for me it comes down with the clothes I'm wearing and how I'm wearing them. It depends on my attitude every day and it's changing with my mood.
Everything started with …
Max: An email … I wrote the email to her because I was looking for new projects. At this time I was a modern dancer at the Martha Graham School, graduated at university. We both moved to New York City and we didn't know each other well. She started this record label, but I heard about that she herself might be an artist as well , so … Everything started with this mail.
This what you always wanted.
Max: Fame and money (laughing)… I'm joking!!!
Lizzy: I know that I didn't really knew what I wanted to do. But I wanted to do something greater than… something which is memorable and more than just being in a small town and being okay. I wanted to be known for really doing something.
This is what you are today.
Max: Tired. (laughing)
Colors in your life are?
Lizzy: … paramount to my life. My dad has the most amazing selection of ties and they are like color organized in an entire closet. I would spend so much time to organize these ties and this explains a lot. (laughs). Seriously, I don't know what colors mean for me … but it feels like the most natural extension of my personality to have colors in my hair even it's clearly like the furthest thing of being natural.

SOMETHING ABOUT YOUR MUSIC …
The album "Secondhand Rapture" is …
Max: Diverse. It's all an experiment. That are the first songs we've ever written and so it's the very first step of us to being musicians. It's a starting place.
Tumblr-Glitch-Pop is …
Both: A joke. (laughing)
Max: When you upload music, for our first EP, stupidly you have to put a genre name and we put the term "Tumblr-Glitch-Pop" as an completely joke.
Lizzy. And the end, what we are doing is pop, pop music.
Max: And picking a genre name beyond would limit what we are doing. I wanna stay true even if people are starting to explain who we are as musicians. We want to continue to experiment in every genre we want to. That's part of the whole idea, to explore a lot more than we have done until yet.
Your inspiration and influences?
Lizzy: New York, media and weather.
Max: And each other.
Weather?
Lizzy: You know, it's funny because we are not terribly environmentally aware, like green conscious or something else. But we should probably better think about it. At a certain point you can't even more ignore environment and its changes. During the year when we were writing for our Album, Hurricane Irene came and that is what inspired "Hurricane". It was a moment of mania and cares in New York. You recognize that things are changing and you think about how we can prepare and be prepared. We both were deeply shaking by and scared in this time, even we didn't talk about it a lot at the beginning.
Max: (joking) If global warm will happen, let's soundtrack it!
Your idols?
Both: Oh!! It can be a long list, shall we?
Of course.
Debbie Harry, Beyoncé, Karen O, Bruce Springsteen, Gwen Stefani, Robyn, Shirley Manson, Florence.
Your song for the moment?
Max: I like really the music of Lorde at the moment, a musician from New Zealand … She is amazing. Maybe it could be her song "Tennis Court"
What's next?
Lizzy: Travelling, tour and festivals. We will even play at the MELT!
And last but not least: Your question?
Max: Why I haven't seen this sugar before? It's amazing! (laughs)
Lizzy: Ehm…. What do you think, the future music sounds like?